CMS Market Share
Analysis July 2022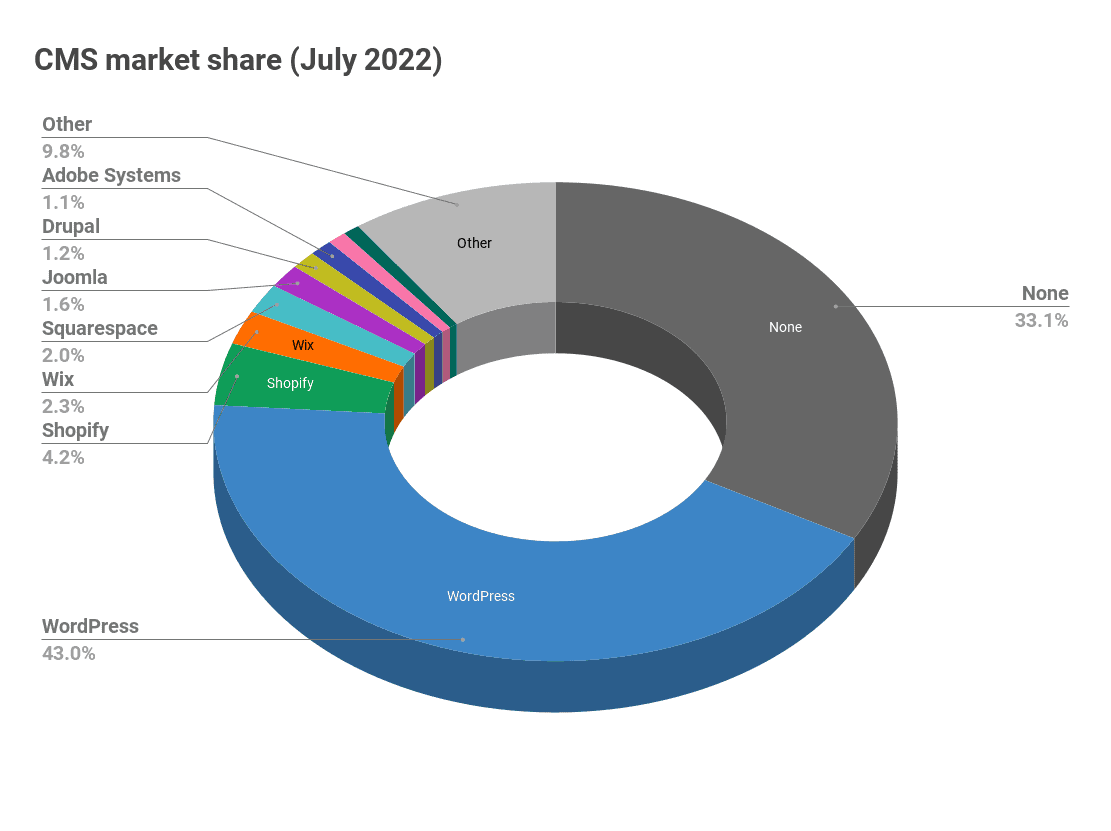 Every 6 months I analyze the CMS market share numbers provided by W3Techs in depth. I look at the top 10 CMSes, which content management systems have grown, which have shrunk. I always pay special attention to eCommerce platforms as well. This time I've started adding data from BuiltWith to see if I can corroborate the numbers from W3Techs.
This is the CMS market share analysis for July 2022, my seventh biannual analysis of the CMS market share numbers provided by W3Techs, this time with additional data from BuiltWith, to see whether I can corroborate the findings from W3Techs with their data. The data right now is not at all conclusive, so it's hard to draw very specific conclusions.
Because the data is so "vague" I've decided to leave all forecasts out of this analysis. I don't consider myself capable of making good predictions about where the future lies for any of these platforms based on this data.
Estimated reading time: 7 minutes
Previous market share analyses
The previous analyses can be found here:
Raw CMS market share numbers
First, let's look at the raw, most important numbers as of June 10th 2021, from this table that W3Techs maintains:
WordPress is the #1 CMS with a 43% market share, roughly the same as in December 2021.
Shopify currently holds 4.2% market share, which is down .1% over the last 6 months, but year on year it's still up by 0.5%.
Wix is still growing fast, adding 0.4% marketshare in just 6 months, solidifying its #3 position.

Squarespace added 0.2%, now at 2% and in the fourth spot.

Joomla lost 0.2% market share in the last 6 months and is now at 1.6%, but steady at #5.
Drupal lost 0.1%, now at 1.2%.
Bitrix (0.8%) and OpenCart (0.5%) are loosing a bit, again.
Magento has been replaced by "Adobe Systems" in the W3Techs tracking, which seems to combine a few Adobe systems into one, with 1.1% market share.
Blogger similarly has been replaced by "Google Systems", which seems to include Google sites too, now at 0.9%.
Webflow is growing nicely, doubling its marketshare in the last 12 months from 0.3% to 0.6%, bringing it into the top 10 for the first time.
Notes about these numbers
The W3Techs research I'm analyzing in this post is based on the top 10 million sites on the web as provided by Alexa and the 1 million list provided by Tranco, see their notes on technologies. While some platforms like Tumblr and WordPress.com are huge, they won't show up as high in these rankings because the individual subdomains are not considered separate websites by W3Techs.
Please note as well that these numbers will be changing heavily over time as the Alexa top 10 million site list will stop being available by the end of 2022.
The top 10 CMSes July 2022
This is the current top 10 Content Management Systems in the world by market share:
| Rank | CMS | Market share |
| --- | --- | --- |
| #1 | WordPress | 43.0% |
| #2 | Shopify | 4.2% |
| #3 | Wix | 2.3% |
| #4 | Squarespace | 2.0% |
| #5 | Joomla | 1.6% |
| #6 | Drupal | 1.2% |
| #7 | Adobe Systems | 1.1% |
| #8 | Google Systems | 0.9% |
| #9 | Bitrix | 0.8% |
| #10 | Webflow | 0.6% |
The top 10 CMSes in the world by marketshare
Most of the above is visible (in its relativity) in the chart below. "None" means the CMS wasn't detected or is "custom":
Because the trends for WordPress are so much bigger than everything else, here's a chart without WordPress:
WordPress stabilizes
For the longest time, it looked like WordPress would just always continue growing. Then, for a brief period, it looked like its market share was actually in decline. I think the best conclusion we can draw based on the W3Techs data, is that WordPress market share is stabilizing.
Is Shopify also stabilizing?
Shopify's market share, according to W3Techs didn't grow over the last 6 months, in fact, it declined a bit. If I compare that data with the BuiltWith data on Shopify, shown in the chart below, that data seems to corroborate the idea of Shopify stabilizing:
Is Wix truly growing that fast?
The W3Techs data shows Wix growing quite rapidly, adding a total of 0.6% market share over the last year. However, that is not corroborated at all by the data BuiltWith shows for Wix, as it has it being relatively stable:
Drupal and Joomla decline
While the data is not entirely conclusive on Wix and Shopify's growth or lack thereof, for Drupal and Joomla every tool I've seen agrees. Their decline is real, and doesn't seem to slow down. They're not just losing market share, as measured by W3Techs, they're losing actual installs, as measured by BuiltWith.
Webflow numbers: what to believe?
In the W3Techs numbers, Webflow is growing nicely. In the BuiltWith numbers though, Webflow has barely added any sites at all in more than a year. So this too, is inconclusive.
Overall market consolidation slowing
In December I wrote that the entire CMS market is consolidating, and was doing so fairly quickly. In June 2020, the top 50 CMSes combined were responsible for 54.8% of sites followed by W3Techs. In December 2021 this was 63.8% of sites. I forecasted that to be close to 70% by the end of 2022. Although the number has gone up a bit, and is now at 64.5%, this consolidation seems to be slowing a bit.
Based on the current numbers, this is the current CMS market share pie chart:
The fight for the biggest e-commerce platform
For quite a while, Shopify and WooCommerce had very similar growth trajectories. I think we can now no longer say that that's the case, as WooCommerce continues to grow and Shopify doesn't:
The other eCommerce players don't seem to be doing so well. Magento is now harder to track in the W3Techs data but seems to lose, as does OpenCart.
Conclusion
The market has not been this volatile since I started looking at it. While growth trajectories for CMSes were stable for quite a while, they're now going in different directions and the different data sets I look at give me no real conclusive data.

That's also why I'm not adding big predictions right now. I think the data is simply not stable enough to say "hey I can just project this going like this".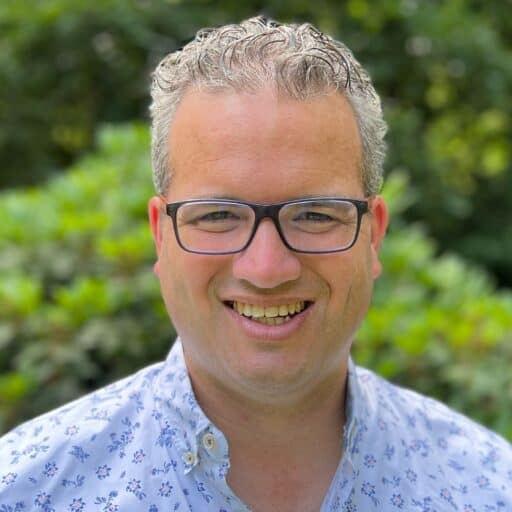 Joost de Valk
Joost is an internet entrepreneur from Wijchen, the Netherlands. He is the founder of Yoast. Joost is married to Marieke, who is also Yoast's former CEO. Marieke and Joost have 4 kids together and run Emilia Capital together, an investment firm.