CMS Market Share
Analysis June 2021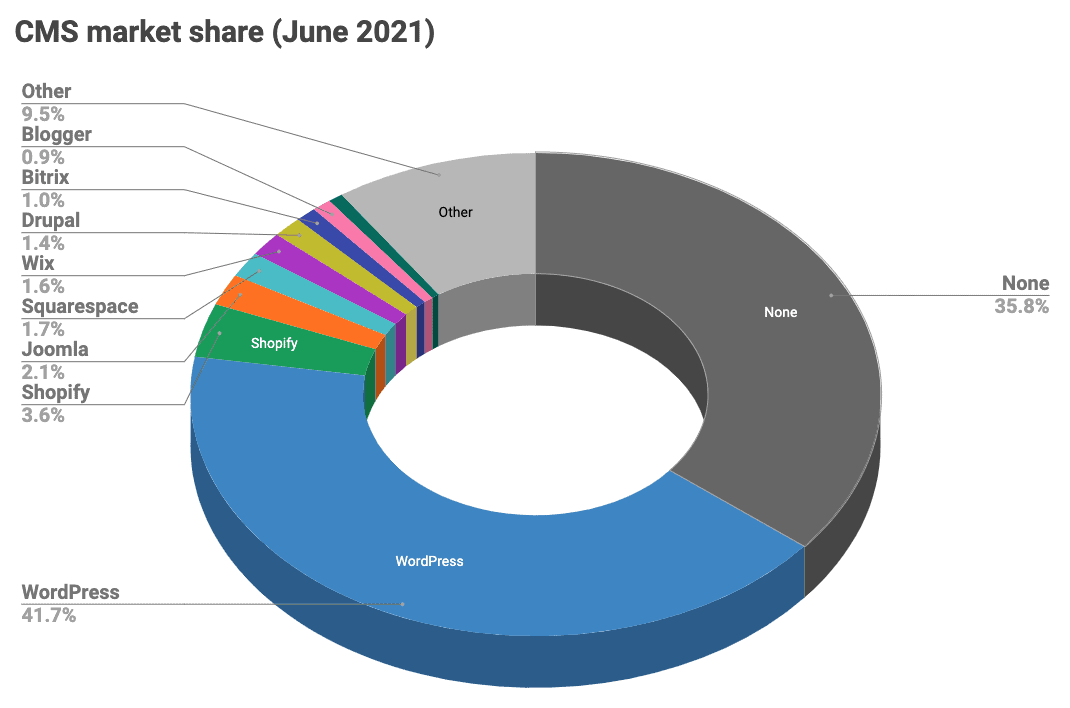 Every 6 months I analyze the CMS market share numbers provided by W3Techs in depth. I look at the top 10 CMSes, which content management systems have grown, which have shrunk. I always pay special attention to eCommerce platforms as well.
This is the CMS market share analysis for June 2021, my fifth biannual analysis of the CMS market share numbers provided by W3Techs. As in the previous two analyses, a lot has changed again this year, in large part attributable to COVID-19.
Estimated reading time: 5 minutes
Raw CMS market share numbers
First, let's look at the raw, most important numbers as of June 10th 2021, from this table that W3Techs maintains:
WordPress is the #1 CMS with a 41.7% market share, 4.6% higher than in June 2020.
Shopify, which overtook Joomla as the #2 in 2020, has 3.6% market share, which is up 1.2% over the last 12 months.
Joomla lost 0.3% market share in the last 12 months and is now at 2.1%.
Squarespace, which was relatively stable 6 months ago, is growing again, now at 1.7% and it has overtaken Wix again. Wix grew too and is now also at 1.7%. Both Wix and Squarespace overtook Drupal.
Drupal went from 1.6% to 1.4% over the course of the last 12 months and has tumbled to the 6th spot in the rankings.
Bitrix (1.0%), Blogger (0.9%) and Magento (0.7%) are all relatively stable, OpenCart saw a minor "up" and is now at 0.7%, just below Magento.
Notes about these numbers
he W3Techs research I'm analyzing in this post is based on the top 10 million sites on the web as provided by Alexa and the 1 million list provided by Tranco, see their notes on technologies. While some platforms like Tumblr and WordPress.com are huge, they won't show up as high in these rankings because the individual subdomains are not considered separate websites by W3Techs.
The top 10 CMSes
This is the current top 10 Content Management Systems in the world by market share:
| Rank | CMS | Market share |
| --- | --- | --- |
| #1 | WordPress | 41.7% |
| #2 | Shopify | 3.6% |
| #3 | Joomla | 2.1% |
| #4 | Squarespace | 1.7% |
| #5 | Wix | 1.7% |
| #6 | Drupal | 1.4% |
| #7 | Bitrix | 1.0% |
| #8 | Blogger | 0.9% |
| #9 | Magento | 0.7% |
| #10 | OpenCart | 0.7% |
The top 10 CMSes in the world by marketshare
Most of this visible (in its relativity) in the chart below. WordPress overtook "None" as the most used CMS on the planet. None of course doesn't exist, but for people like me who watch this graph a lot it was a noteworthy moment.
Because the trends for WordPress are so much bigger than everything else, here's a chart without WordPress:
WordPress sustains its growth once again
WordPress has seen tremendous growth in these numbers, adding 0.3% to 0.4% market share month over month for many months in a row now.
Realize that WordPress' market share grew by 4.6%, while the second CMS on the web, Shopify, has "only" 3.6% market share in total. That is simply tremendous. A large part of the growth of WordPress is driven by WooCommerce, which has grown incredibly as well.
Drupal and Joomla decline
Unlike WordPress, the other "formerly big open source CMSes" continue to decline. So much so that if they continue their current trends, Joomla and Drupal will be the #4 and #5 CMSes in the world by this time next year.
My prediction for the end of 2021 top 5 list of CMSes, based on current trends:
WordPress – 43.5%
Shopify – 4.6%
Wix – 1.8%
Joomla – 1.7%
Drupal – 1.3%
Overall market consolidation
The entire CMS market is consolidating, and doing so fairly quickly. A year ago, the top 50 CMSes combined were responsible for 54.8% of sites followed by W3Techs. Right now this is 61.8% of sites. We forecast that a year from now this will be close to 70%.
eCommerce continues its rise
As a result of COVID-19, more people have been buying and selling things online. As a result, eCommerce is becoming more important and eCommerce sites take up a bigger portion of the top 10 million sites. We did an estimate in November of where both WooCommerce and Shopify would be at in June, and something interesting happened: for the first time, Shopify's growth was slightly lower than we expected. Admittedly, their growth is still phenomenal, but we expected them to be at 3.8% market share and they're "only" at 3.6%, up from 3.1%.
On the other hand WooCommerce once again beat our forecast. We expected them to be at 7.8%, instead they're at 8.2%, up from 7.1% which is quite a big leap. This means that WooCommerce is now growing faster than Shopify.
The other eCommerce players don't seem to be doing so well. Magento is stable at 0.7%, OpenCart saw a minor uptick from 0.6% to 0.7%, they had a similar uptick last year which makes me think they'll beat Magento soon.
Conclusion
The conclusion is simple, in the current market, there are 2 clear winners: WordPress (and certainly also WooCommerce "within" it) and Shopify. Squarespace and Wix are both also doing well although they're growing at a significantly lower pace than Shopify and WordPress.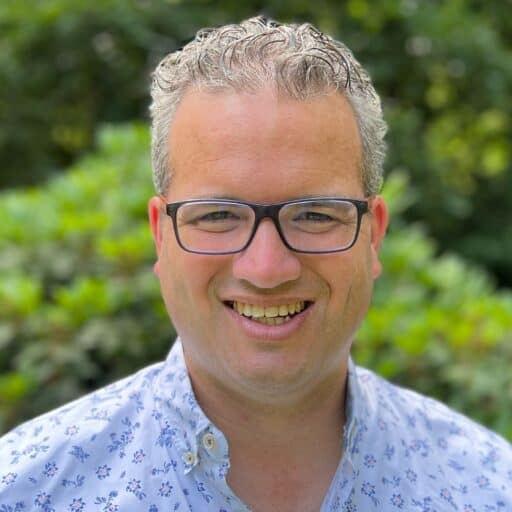 Joost de Valk
Joost is an internet entrepreneur from Wijchen, the Netherlands. He is the founder of Yoast. Joost is married to Marieke, who is also Yoast's former CEO. Marieke and Joost have 4 kids together and run Emilia Capital together, an investment firm.