CMS Market Share Analysis
Analysis June 2023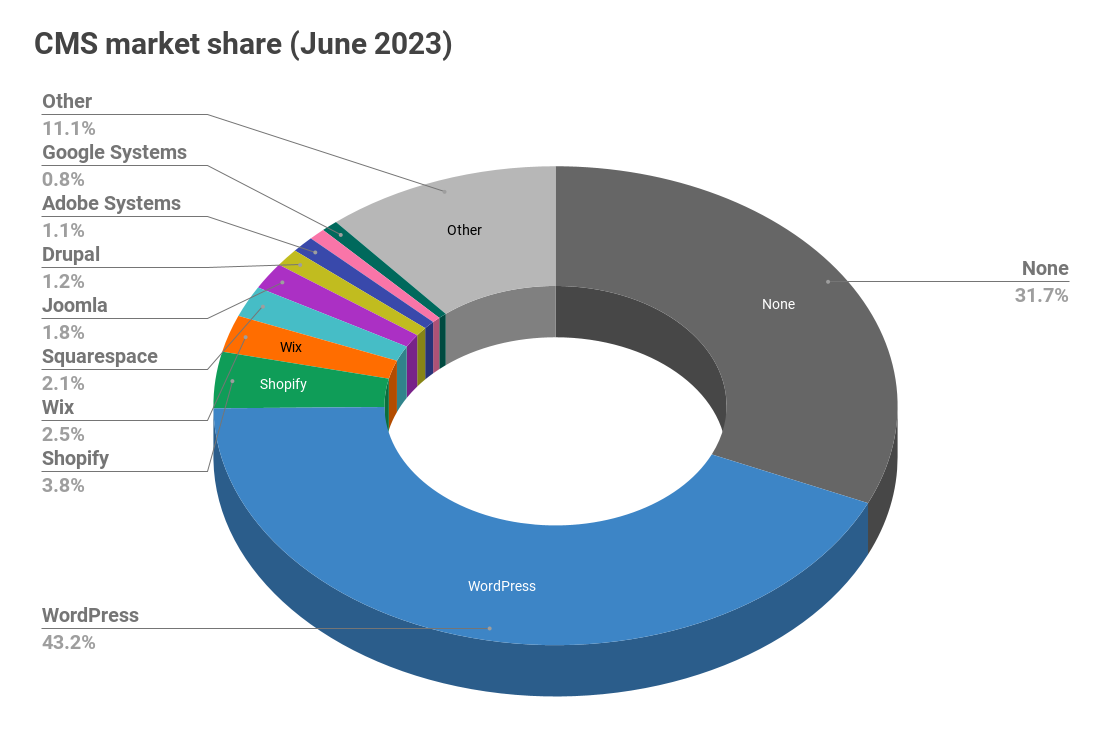 TL;DR
The CMS Market Share analysis for June 2023: WordPress is still the leading CMS and its market share is super stable for the last year. In fact, most of the top 10 is stable. Shopify shows a small decline, but great financial numbers. Prestashop, acquired in 2021, is the fastest grower in the top 10, and in my opinion shows real promise. Read on for more details!
Background
I regularly analyze the CMS market share numbers provided by W3Techs in depth. I look at the top 10 CMSes, which content management systems have grown, which have shrunk. I always pay special attention to eCommerce platforms as well.
This is the CMS market share analysis for June 2023, my eighth biannual analysis of the CMS market share numbers provided by W3Techs. It is about 5 months late, but for good reason: W3Techs changed its data source and I wanted to make sure the rankings were not going to shift tremendously as a result of that and thus not be comparable to previous rankings. It looks like the impact of that change has been negligible, which means the sample they've taken was always a good one. That in itself is good to know.
What is slightly less fortunate is the fact that W3Techs has been reducing the amount of data they show publicly, making some of my previous analyses now impossible. I'm going to have to look around for better data for future reports. The HTTP Archive might be a good source of data, as it too has access to Chrome's UX dataset.
Estimated reading time: 6 minutes
Previous market share analyses
The previous analyses can be found here:
Raw CMS market share numbers
First, let's look at the raw, most important numbers as of June 14th 2023, from this table that W3Techs maintains, going through the top 12:
WordPress is the #1 CMS with a 43.2% market share, .2% more than in July 2022.
Shopify currently holds 3.8% market share, which is down .4% from 11 months ago. This had been trending a bit down for a while, so this is not a dataset anomaly.
Wix is still growing, albeit much slower than it was in the years before, and is now at 2.5%.

Squarespace added 0.1%, now at 2.1% and in the fourth spot.

Joomla gained a bit, is now at 1.8%, and steady at #5. Here I do suspect a tiny bit of a sample change, as this doesn't really fit any trend I'm seeing.
Drupal is at 1.2% and has been for more than a year.
Adobe Systems are stable at 1.1%.
Prestashop grew by 0.3% in the last 11 months and overtook Google Systems for the 8th spot. With its 0.3% growth Prestashop is actually the fastest grower in the top 10.
Google Systems (aka Blogger and Google sites) shrank by 0.1% to 0.8% and dropped a spot.
Bitrix shrank 0.1% to 0.7% and dropped a spot.
Webflow has been stable at 0.6% for over a year, but that gets them a spot lower than last year.
OpenCart added 0.1%, is now just below Webflow. Note that OpenCart and Prestashop were equally as big just a year ago.
Notes about these numbers
The W3Techs research I'm analyzing in this post is based on the top 10 million sites on the web as provided by Chrome's UX report and the 1 million list provided by Tranco, see their notes on technologies. While some platforms like Tumblr and WordPress.com are huge, they won't show up as high in these rankings because the individual subdomains are not considered separate websites by W3Techs.
The top 10 CMSes June 2023
This is the current top 10 Content Management Systems in the world by market share:
| Rank | CMS | Market share |
| --- | --- | --- |
| #1 | WordPress | 43.2% |
| #2 | Shopify | 3.8% |
| #3 | Wix | 2.5% |
| #4 | Squarespace | 2.1% |
| #5 | Joomla | 1.8% |
| #6 | Drupal | 1.2% |
| #7 | Adobe Systems | 1.1% |
| #8 | Prestashop | 0.8% |
| #9 | Google Systems | 0.8% |
| #10 | Bitrix | 0.7% |
The top 10 CMSes in the world by marketshare
Most of the above is visible (in its relativity) in the chart below. "None" means the CMS wasn't detected or is "custom":
Because the trends for WordPress are so much bigger than everything else, here's a chart without WordPress:
WordPress stabilizes
For the longest time, it looked like WordPress would just always continue growing. Then, for a brief period, it looked like its market share was actually in decline. A year ago I concluded that market share is stabilizing, I guess that's still true, or "minor" growth.
Is Shopify declining?
Shopify's market share declined a bit. What's important to note is that they changed their pricing quite drastically. I don't know what happened to their overall customer base of course, but if you change your pricing this drastically and only take a minor hit, you've done well.
Shopify's 3.8% market share is now delivering a lot more revenues than they were delivering previously. This is corroborated by their Q1 2023 results, which showed a 27% growth in revenue.
Wix still growing
Last year, Wix added 0.6% market share in a year. This year it's shown growth, but "only" 0.2%. Wix's Q1 2023 results showed a pretty healthy 10% year on year growth in revenues with very healthy margins.
Drupal and Joomla stable
Both Drupal and Joomla seem to have stabilized, which is good to see. Not expecting much fire here in the next few years though, unfortunately.
Prestashop: what's happening?
Prestashop was acquired by MBE Worldwide in 2021 and has been steadily growing over the last 12 months. Prestashop is mostly active in Europe and Middle and South America, but there's surprisingly little news about this eCommerce solution in the last year.

It is interesting to look at the Prestashop project a bit more in-depth, as it's clear that investment has been happening here. Their 8.0 release adds very notable features: WebP and SVG support (with 8.1 promising avif support), support for DKIM signing of emails and quite a few other small things I'd love for WordPress and WooCommerce to have.
I will say this: the vibe that the PrestaShop project site has is quite enticing.
Where's WooCommerce in all of this?
WooCommerce's market share is pretty much stable at 8.7%, which is where it was in July 2022 as well. Boring. It's not that the WooCommerce team hasn't been busy, most notably with their launch of Woo Express, a platform that could be a serious threat to Shopify if they play their cards well.
The overall percentage of eCommerce sites in the top 12 remains mostly stable too, with Shopify losing a bit but Prestashop adding almost the same amount.
Conclusion
The market is stable to the point of almost being boring. The biggest winner is Prestashop, which does also show some good innovation. I hope they'll bring good competition, as good competition is truly good for everybody.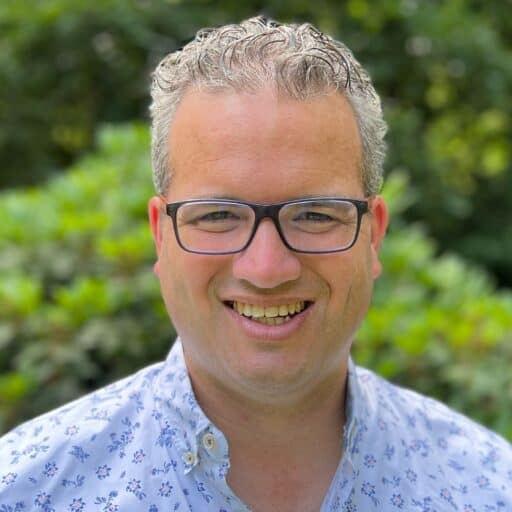 Joost de Valk
Joost is an internet entrepreneur from Wijchen, the Netherlands. He is the founder of Yoast. Joost is married to Marieke, who is also Yoast's former CEO. Marieke and Joost have 4 kids together and run Emilia Capital together, an investment firm.