CMS Market Share
June 2020 Analysis
Every 6 months I analyze the CMS market share numbers provided by W3Techs in depth. I look at the top 10 CMSes, which content management systems have grown, which have shrunk. I always pay special attention to eCommerce platforms as well.
This is my third biannual analysis of the CMS market share numbers provided by W3Techs. In January of 2019 I made my first analysis of the CMS market share numbers provided by W3Techs and I updated them again in November. A lot has changed over the last 6 months, probably large due to the situation the world finds itself in. I truly think this will have lasting effects though, with WordPress market share incredibly on the rise.
Estimated reading time: 6 minutes
Raw CMS market share numbers
First, let's look at the raw, most important numbers as of June 4th 2020, from this table that W3Techs maintains:
WordPress is the #1 CMS with a 37.1% market share, 2.3% higher than November 2019.
Shopify has overtaken Joomla as the #2, has 2.4% market share, which is up 0.6% over the last 6 months.
Joomla lost 0.3% market share and is now at 2.4%, though slightly lower than Shopify in W3Techs rankings.
Drupal is also losing, going from 1.7% to 1.6% over the course of the last 6 months.
Squarespace, which was a surefire winner just 6 months ago, has lost 0.2% over that period and is now at 1.4%.
The other "winners" are Wix (1.4%, up 0.1%), Bitrix (1.0%, up 0.2%), Blogger (1.0%, up 0.2%).
Notes about these numbers
Notes about these numbers: the W3Techs research I'm analyzing in this post is based on the top 10 million sites on the web as provided by Alexa and the 1 million list provided by Tranco, see their notes on technologies. While some platforms like Tumblr and WordPress.com are huge, they won't show up as high in these rankings because the individual subdomains are not considered separate websites by W3Techs.
Most of this visible (in its relativity) in the chart below. Note that we've taken out WordPress as otherwise the trends for the other CMSes are so minuscule:
WordPress shows incredible growth
Over the last 35 days, since May 1, WordPress has added 1.1% market share. If you consider that the #2 and the #3 CMS in the market both have a share of approximately 2.4% in total, WordPress adding almost half of that over the course of just over a month is incredible.
Of course we can only speculate as to the reasons behind this growth, because the data doesn't show this. I do see that more and more businesses, both small SMB's as well as larger corporates, choose WordPress as their "to go" platform when they need to create sites, due to the ease of use, price and quality of available tooling and hosts and the wide availability of developers.
eCommerce on the rise
As a result of COVID-19, more people have been buying and selling things online. As a result, eCommerce is taking up a quickly growing portion of the top sites. Together the two main eCommerce platforms, Shopify and WooCommerce, have risen quite hard. They seem to be on somewhat similar growth paths, although Shopify is growing faster than Woo. Note that the very simple forecast models we've used don't take the world's current situation into account, and thus aren't very reliable.
Next to the incredible growth these two platforms show, one of the interesting bits about this is the eCommerce systems that are not growing right now. OpenCart saw a slight positive uptick, for PrestaShop the current situation seems to have accelerated its demise. I would have expected BigCommerce to "profit" more from this situation, but their market share isn't moving, and neither is Magento's.
Open source vs closed source
As always when I look at these numbers, it's a bit bittersweet. I love to see WordPress grow its CMS market share so fast. It's my website platform of choice and I spend a lot of time with our team at Yoast and with the wider community on making it better. But other open source projects are losing, some of them are losing fast.
An example near and dear to my own heart, is TYPO3. It's a community I love, but unfortunately it's losing market share faster than ever before, now at 0.3%, which is down 0.3% from 6 months ago. That's 50% of its market share over the course of just 6 months. What I said about that in November remains true, this might be regional effect, but fact of the matter is, if you become too small for people to consider you a contender, you've lost.
Overall, closed source vs open source looks like this right now:
New contenders?
In November I wrote about new contenders coming into the market, Salesforce & Mailchimp amongst other ones. So far, none of them have gotten to a CMS market share where they're noticeable in these charts yet. Which shows that this isn't an "easy to win" market. I think many people underestimate the CMS market. Lots of developers end up writing their own CMS as though it's a rite of passage. Turns out that when you have to get people to use your CMS, it's a lot harder. WordPress has reached critical mass in multiple ways and is on its way to 50%, maybe even within the next two years.
CMS market share data
I imported all this CMS market share data from W3Techs into a Google Sheet. The sheet, including some of my highlights and forecasts is public and you can view it here. I'd love to hear what else you see that strikes as odd or needs attention. So, have questions for me on this data? Things you want to point out? Let me know in the comments!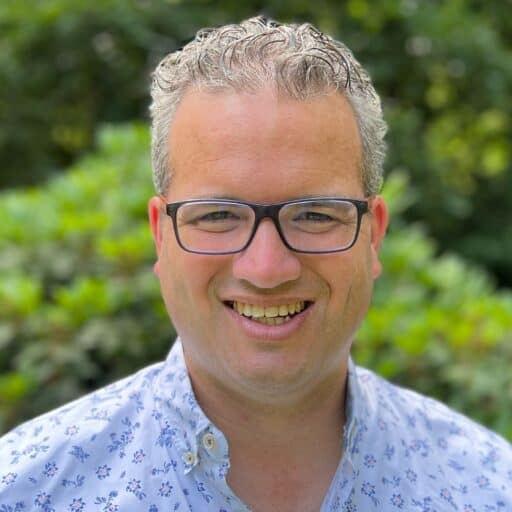 Joost de Valk
Joost is an internet entrepreneur from Wijchen, the Netherlands. He is the founder of Yoast. Joost is married to Marieke, who is also Yoast's former CEO. Marieke and Joost have 4 kids together and run Emilia Capital together, an investment firm.